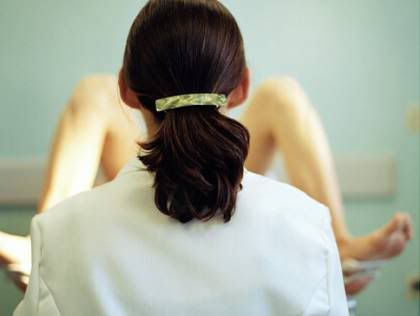 Maybe it's all the romance and roses that Valentine's Day brings but, for whatever reason, lately I've been thinking about PAP smears.
I hate the things. So much so that I haven't had one in over 5 years…well over 5 years. I know, I know. Regular PAPs and mammograms are a girl's best friend, but I just haven't been able to bring myself to go get one. Especially when my doctor's office sits right next to a nail salon. I mean, c'mon Universe.
You might think it's the humiliation of getting naked and putting your feet in stirrups only to be instructed (every single time) to "scoot down a bit more" so as to expose your most private of parts more completely. But it's not that.
Nor is it the ice-cold, well-lubed medieval device known as the speculum and the awful clicking sound it makes when it's served its purpose.
And it's not the distantly painful feeling in the depths of your gut when that long cotton swab enters your cervix.
It's not that I had to go back once for a biopsy in which they replace the long cotton swab with a long pair of nail clippers that they use to snip pieces of your cervix off. Nope.
It's not even about the laser procedure I had to have done immediately after the biopsy results came back. And it's not that the doctors didn't know how tolerant I was to sedatives so they didn't give me enough and I woke up several times during the procedure. This time with my legs strapped tightly to the stirrups and my hands bound in leather straps to the hospital bed. And there was pain. A lot of pain.
None of these are the reason I hate PAP smears so much.
The real reason is: One time I got a result I didn't like so I said "Fuck it."
Fear.
While this may be an unpleasant and mildly gruesome example, we all do this in our businesses and lives way too often. One time we get a result we don't like, whether it's "No thanks." or "I don't want to buy your product." or "It's cancer." and we decide to never do that thing again.
But what do we risk by running away from the unpleasantness of life? What opportunities or new experiences do we turn our back to out of fear? What serious troubles may arise by our not doing those things we are afraid to do?
A whole shitload by my estimations.
So I have made my appointment for the first PAP test I've had in many, many years. I'm terrified. And, as I mentioned, there's a nail salon right next to the doctor's office making it all-too-tempting to just duck in for a mani/pedi and suck up the "missed appointment fee" once again.
It's scheduled for next Thursday afternoon. There. Now I'm accountable to you. I've put it out there and people will know if I wussed out by how polished my nails look.
Now…onto you, my precious. What can you leave in the comments section to make yourself publicly accountable? What task or chore have you been avoiding for whatever reason and are you ready to just get the shit done already?
Is it worse than getting naked in front of a stranger and putting your feet up in stirrups so they can poke and prod about? If not, I DOUBLE DOG DARE you to do it!